Ahead of Fukushima anniversary residents worry about future of affected areas
Comments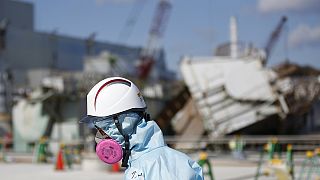 Five years after the earthquake and tsunami that triggered the Fukushima nuclear disaster, bags full of radioactive dirt and debris are still visible nearby.
Ahead of the anniversary on March the 11th reporters visited a town 20 kilometres away, the first in the area to fully reopen.
But for some of the few residents who have returned to Nahara, there's little hope for the future of the town.
76-year-old Buddhist priest Tokuo Hayakawa said: "After coming back, I knew I would see the end of this region, this town. It became an environment where people could not live safely and comfortably ever again."
It is reported that less than six percent of residents have returned.
Locals say the future will depend on young people returning and so far there's only a handful, amid lingering fears about radioactivity.
Authorities maintain the presence of radiation has dropped to levels below what's considered safe.
However, the chief decommissioning officer of the Fukushima nuclear plant admits that the melted nuclear fuel has still not been located.
On Monday three former TEPCO (Tokyo Electric Power) executives were charged over claims they failed to enforce the necessary safety measures to prevent the Fukushima nuclear disaster.
State prosecutors failed to lay charges in the case, citing a lack of evidence, but the new indictments were forced through by what is known as a "civilian judicial panel".
Fallout from 2011 nuclear disaster in Japan's Fukushima: Three former TEPCO execs charged with alleged negligence. https://t.co/9H8UwrPzz6

— AP Business News (@APBusiness) March 1, 2016
Japan indicts 3 former executives over Fukushima nuclear disaster https://t.co/B1nfR2qYoepic.twitter.com/UR2aJTvQT4

— New York Times World (@nytimesworld) February 29, 2016
There are lingering effects of Fukushima on fish https://t.co/SQOUQRh7uP

—

TIME

.com (@TIME) March 1, 2016
Greenpeace launches investigation into #fukushima disaster effects on pacific ocean https://t.co/EqRCPOoVJGpic.twitter.com/rrY50VA1Sh

— Greenpeace (@Greenpeace) March 1, 2016