UN Security Council to vote on tighter sanctions against North Korea
Comments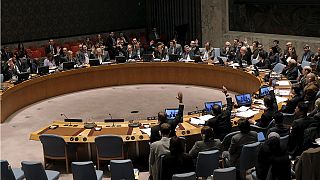 The United Nations Security Council is due to vote on Wednesday on a resolution that would dramatically tighten sanctions on North Korea, following Pyongyang's recent nuclear test and missile launch.
Drafted by the US and China, it tightens an arms embargo and financial sanctions, and bans fuel exports.
North Korea has told the UN Human Rights Council that it will boycott any sessions that examine its record.
"Any resolutions to be adopted against the DPRK (Democratic People's Republic of Korea) in such sessions will only prove partiality and double standards. Whether or not such resolutions are to be put to a vote will be none of our business. And we will never ever be bound by them," North Korea's Foreign Minister Ri Su Yong told the session in Geneva.
Russia has reportedly been allowed more time to examine the text.
As well as sanctions, the UN has warned that leader Kim Jong Un may be investigated for crimes against humanity.
But despite almost-total international isolation, Pyongyang's rhetoric remains as defiant as ever.