Hollywood actor George Kennedy dies aged 91
Comments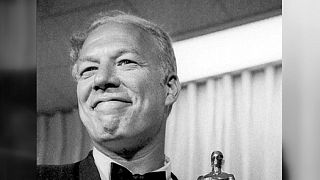 The American actor George Kennedy, who won an Oscar for his portrayal of a savage chain-gang convict in the 1960s classic "Cool Hand Luke," has died. He was 91.
Known for his tough guy portrayals, Kennedy carved out a niche as one of Hollywood's most recognizable supporting actors.
His characters in other movies also got to rough up screen legends,including Cary Grant, as a hook-handed thug on a roof-top in the 1963's "Charade" and Clint Eastward.
After acting in serious roles for most of his career, Kennedy threw himself into comedy as Captain Ed Hocken, the sidekick to Leslie Nielsen's bumbling cop Frank Drebin in the "Naked Gun" films.
His many other films included " The Dirty Dozen" and "The Eiger Sanction".