Egypt touts for Japanese investment as route to economic recovery
Comments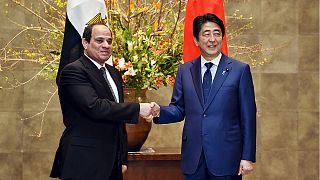 Egyptian President Abdel Fattah al-Sisi is hoping to secure Japanese investment projects worth around 15 billion euros on his visit to the country – the first by an Egyptian leader in 16 years.
Al Sisi is desperate to attract foreign investment which has been driven away due to the continued unrest following the 2011 uprising.
The projects are thought to be related to energy and as well as other sectors.
Prime Minister Shinzo Abe and his government drives exports of social infrastructure such as railway systems and power generation systems to the Middle East and other regions as part of its growth strategy.
The leaders also agreed to hold a dialogue between their Defence and Foreign Ministry officials periodically to strengthen security ties.