Trial of ex-Nazi prison camp medic adjourned amid questions about his health
Comments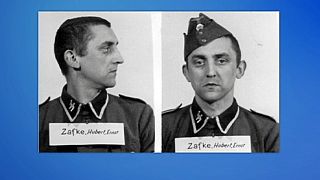 The trial of a 95-year-old former Nazi prison camp medic has been adjourned for two weeks amid debate about whether he is well enough to appear in court.
Hubert Zafke served in the Auschwitz death camp and is accused of being an accomplice to the murder of thousands of prisoners.
The accused was responsible for treating SS members in the camp but he denies that he knew about the mass killing of inmates.
The defence lawyer, Peter Michael Diestel, has criticised the holding of the trial, accusing the German justice system of using recent trials to make up for the embarrassment of failing to achieve justice over the Holocaust in the past.
Prosecutors say they have doubts about what they call the "self-assessment" of Zafke's state of health and want another expert opinion.
The 95-year-old is alleged to have worked along the path where prisoners were led to their deaths in the gas chambers.
Prosecutors say he witnessed the stream of inmates going into the chambers and not returning and must have been aware of the constant smoke that was produced.