Final election results in Iran confirm symbolic victories for reformist president and allies
Comments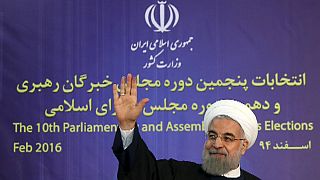 It is being described as a blow to Iran's conservative Islamic establishment.
Final results after elections on Friday show that allies of the reformist President Hassan Rouhani have made big gains.
In highly symbolic victories, the Rouhani allies have won all of the 30 parliamentary seats up for grabs in the capital.
They have also won 15 out of the 16 Tehran seats in the so-called Assembly of Experts, ousting two prominent conservatives including the speaker.
The assembly will have the job of choosing the country's next supreme leader.
Commentators say the results could mean Iran will further its new ties with the West after the recent nuclear deal that resulted in sanctions being lifted.
However, despite the gains by Rouhani and his allies, the conservatives remain in power overall due to the two-tier system of clerical and republican rule.