What we do we know about North Korea's US prisoner Otto Warmbier?
Comments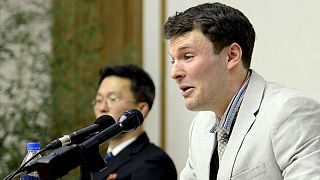 Otto Warmbier, 21, is a third-year business student, from the University of Virginia. His family live in Cincinnati, Ohio.
I understand the severity of my crime and I have no idea what sort of penalty I may face, but I am begging to the Korean people and government for my forgiveness
Why is he in the news?
He has today (Monday) apologised after being arrested last month at an airport in North Korea for "perpetrating a hostile act" against the regime, according to the authorities of the communist state.
Is there any more detail on this hostile act?
Not that much. In his heavily-staged public appearance he confessed to stealing a political slogan from his hotel in Pyongyang. He said he was promised a reward if he brought back the trophy, which he needed because his family was in 'financial difficulties'.
He said a church member in Wyoming had offered him a used car worth $10,000 (9,100 euros) if he brought back an important political slogan to be hung in the Friendship United Methodist Church as a "trophy," the official Korean Central News Agency reported.
"She continued to say that by taking this slogan, we would harm the unity and motivation of the North Korean people and show this country an insult from the West," Warmbier added, according to the news agency.
"I have been very impressed by the Korean government's humanitarian treatment of severe criminals like myself, and of their very fair and square legal procedures in the DPRK (Democratic People's Republic of Korea)," he said.
North Korea said the student traveled to the country as a tourist but with the real aim of destroying the unity of North Korea with "the tacit connivance of the US government."
What was he doing in North Korea?
He was on a five-day excursion with Young Pioneer Tours, a company specialising in trips to North Korea, which describes itself as providing 'budget tours to destinations your mother would rather you stayed away from'.
Do we know anything else about Warmbier?
He was staying at the Yanggakdo International Hotel on an island in the middle of the Taedong river on a five-day trip over New Year. The Independent quoted a witness claiming Warmbier had been up drinking all the previous night before his 7am flight.
Is this political maneuvering on behalf of North Korea?
Possibly, North Korea has a long history of detaining foreigners and has used jailed US citizens in the past to exact high-profile visits from Washington, with which it has no formal diplomatic relations.
Isolated North Korea is expected to face tough new U.N. Security Council resolution following its nuclear test in January and a long-range rocket launch this month.
The US State Department said it is aware of Warmbier's detention but declined to comment further due to what it called privacy considerations.
Westerners held previously in North Korea have said that any confessions given were made under pressure from the state.
Pyongyang released three detained Americans in 2014.