Rescue operation for trapped miners halted
Comments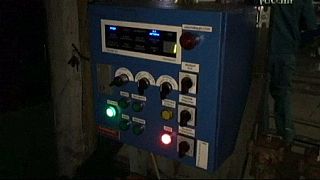 Government says no chance trapped miners have survived
Rescue workers evacuated from mine after six die in further explosion
Criminal investigation launched
The news
The Russian government has confirmed that rescue operations have been halted after further blasts at a mine inside the Arctic Circle claimed another six lives.
Five of the latest to die were rescue workers.
26 miners were trapped underground at the Severnaya mine in the town of Vorkuta.
The head of the Komi republic, where the Vorkuta mine is located, has declared a three-day mourning period starting from Sunday.
A criminal investigation has been launched into a possible breach of safety regulations.
What happened?
The miners were trapped on Thursday after a sudden leak of methane gas caused two explosions.
Parts of the mine collapsed.
Officials say the area where they are is registering high temperatures and no oxygen supply.
110 people were in the mine at the time. In addition to the 26 missing miners, 80 have been brought to the surface and four have been confirmed dead.
The mining industry in Russia
The episode is the latest in a long line of accidents in Russia's coal mining industry. It is likely to raise fresh questions about how strictly safety rules are being observed.
Poor safety standards were blamed for an explosion at the Ulyanovskaya coal mine in the southern Siberian region of Kemerovo in March 2007.
This is on record as the worst mining accident in Russia since the 1991 collapse of the Soviet Union.
Vorkuta in tweets
Damaged #Vorkuta mine where 36 people died may be either isolated or flooded https://t.co/DSvQYpXqNwpic.twitter.com/SVsStyG3dh

—

RBTH

(@russiabeyond) February 28, 2016
Tech comtee officially declared death of 26 miners in Vorkuta. Next step either to flood mine or pump out all oxygen pic.twitter.com/XbGLYuPKIW

— Roman Kosarev (@Kosarev_RT) February 28, 2016
Flags at half-staff at Vorkuta mine. 5 rescuers,1miner killed after another blast underground.Search & rescue halted pic.twitter.com/tZ7tm6rFbc

— Roman Kosarev (@Kosarev_RT) February 28, 2016
What they are saying
"The circumstances in the affected part of the mine did not allow anyone to survive." – Russian Emergencies Minister Vladimir Puchkov.
"In the underground space where the 26 miners were, there are high temperatures and no oxygen." – Russian Emergency Ministry.