Hillary Clinton scores a victory in US state of South Carolina
Comments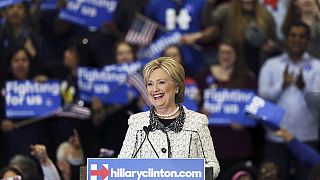 Democratic presidential candidate Hillary Clinton has won a resounding victory in the US state of South Carolina.
Clinton crushed rival Bernie Sanders in the state's primary as black voters helped propel her into next week's important "Super Tuesday" voting.
"We are going to compete for every vote in every state," Clinton told supporters. "We are not taking anything and we are not taking anyone for granted."
Clinton's victory raises questions about whether Bernie Sanders will be able to expand his support beyond his base of predominantly white liberals.
Sanders needs a breakthrough win in a key state soon to keep his presidential hopes alive.