Reformists lead in election for Iran's Assembly of Experts
Comments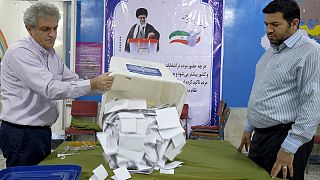 Iranian President Hassan Rouhani and his ally and former president Akbar Hashemi Rafsanjani have won the most votes in the race for membership of the Assembly of Experts.
Official results for this branch of the twinned elections show Rafsanjani came in first and Rouhani second.
The 88-seat Assembly has the task of choosing Iran's highest authority, the supreme leader.
Particular emphasis has been placed on the ballot this time as Ayatollah Ali Khamenei, who currently holds the position, is in poor health and may soon have to be replaced.
Unofficial results suggest…
Voters in Friday's elections (February 26) were also asked to elect the 290-member parliament.
Unofficial, early results in this race suggest the reformists and independents could have one of their best elections in years.
The semi-official Fars and Mehr news agencies say their preliminary findings show the hardline conservatives are lagging behind in several cities, after holding on to the parliamentary majority for over a decade.
Analysts suggest supporters of the reformist president — among whom number some moderate conservatives — will secure a bigger presence than in prior votes.
Turnout for the twinned elections is thought to have stood at between 60 and 70 percent.