Turkey frees journalists after court rules detention violated their rights
Comments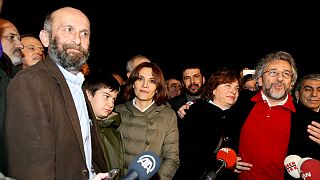 Turkey has freed two prominent journalists after the country's top court ruled their detention violated their rights.
The arrest of Can Dundar, editor-in-chief of the Cumhuriyet newspaper, and editor, Erdem Gul, last November, had drawn international condemnation.
They were arrested after the publication of photos and video footage last May purporting to show the state intelligence agency helping to send weapons to Syria.
They could have faced life sentences without parole if convicted, their lawyers had said.
Tahir Ozyurt, the newspaper's acting editor-in-chief, told Reuters he expected the journalists to be released following the ruling.
The two journalists had been charged with intentionally aiding an armed terrorist organisation and publishing material in violation of state security.
Turkish President, Tayyip Erdogan, vowed to punish the editor-in-chief of the newspaper after the video was published. Erdogan has cast the newspaper's coverage as part of an attempt to undermine Turkey's global standing.
He has acknowledged that the trucks, which were stopped by gendarmerie and police officers en route to the Syrian border, belonged to the MIT intelligence agency and said they were carrying aid to Turkmens in Syria. Turkmen fighters are battling both President Bashar al-Assad's forces and Islamic State.
Turkey languishes near the bottom of international press freedom tables. The European Union, which Turkey aspires to join, has said harassment of the press violates its human rights criteria.