Local ISIL chief captured in Libyan city of Sabratha
Comments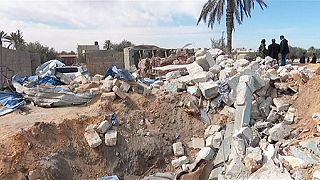 A local ISIL (Islamic State) chief has been captured in the Libyan city of Sabratha according the Tripoli-based government which is not internationally recognised. He was captured along with two of his aides seventy kilometers west of the capital.
Libyan forces battled to clear ISIL fighters from the western city of Sabratha on Thursday (February 25), in fighting that killed at least three Libyans and one of the fighters, officials said.
ISIL has gained ground rapidly in Libya in the last year, controlling the city of Sirte and attacking oil ports, as it takes advantage of the conflict between the country's two rival governments and their armed factions.
US warplanes hit ISIL in Sabratha last week, a sign of growing Western engagement against the group in Libya as it expands beyond its original territory in Iraq and Syria.
Fighting began in Sabratha on Tuesday, when fighters stormed into the city, beheading 11 local security men before retreating after clashes with local Sabratha brigades. ISIL is also fighting in Benghazi to the east.
"A military operation has been started to wipe out the militants of Islamic State in Sabratha," Sabratha municipal council major Hussein al-Thwadi told Reuters. "At least three of our fighters have been killed and ten wounded."
A militant commander was captured on Thursday, Thwadi said. A would-be ISIL suicide bomber was also killed, before he could set off his explosives.