Tehran a bustling city of opportunity
Comments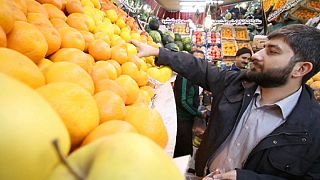 Tehran, the capital of Iran, is the largest and most populated city in the country 12 million people live there.
In addition five million commute into the city for work adding to the hubbub.
Omid Naraghi, lives in Tehran. He is an architect and a musician. He spends most of his time in his office or in studios working on his music. He loves his city and enjoys what it has to offer: "Tehran is a beautiful and good city, with opportunities for work and activities. You can be happy in this city, but the way of life depends on one's attitude, everyone must make a choice,"
he mused.
Omid likes to ski and 35 km north of Tehran is the Darband Sar ski Resort, it is one of four international stations near the capital, but it is expensive. The station rises to 3020m. Omid is full of praise for the place: "This is an international ski resort and a major tourist attraction. It is one of the biggest and most professional resorts in Iran. I come here with friends and family unfortunately my wife was unable to come this time because she's pregnant."
Back in Tehran, in the south of the city is Hamid Gharavi.
He is an electronic engineer and he works for two different companies, he has been married for 11 years, and has two children.
Hamid is relatively happy with his lot, but hopes that he can make a better life for himself and his family. He wants to buy his own flat, like most young Iranians:"I am a tenant and because I plan to buy an apartment, I have to do two jobs. I have a regular job which takes up the day and in the evening I work somewhere else until 9 or 10 p.m. to make the extra money to buy an apartment".
Hamid refuses to go into detail about his working life.
His wife also works she is a chemistry teacher at an elementary school. The south of Tehran is not as well heeled as the north something, which irks Hamid:"In the southern part of the city, you can find areas where the standard of living is not good at all. On the other hand, in the northern part of the city you see cars that cost more than the apartment we live in. There is a class divide here; however, Tehran is a city where you can make a living if you are hardworking. If you are skilled and committed you can work."
Cities offer dreams and opportunities and Tehran, despite years of sanctions, is a capital with spirit that has battled hard to retain its dignity.