The dash for cash in post-sanctions Iran
Comments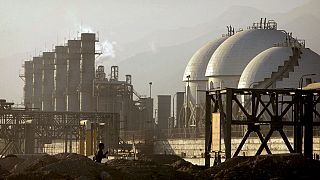 The Iranian economy received a new lease of life with the signing of the nuclear deal in Vienna.
Iran Deal, NPT and the Norms of Nuclear Non-Proliferation https://t.co/QDKQsCUT38pic.twitter.com/IPGgZiFxdu

— The Diplomat (@Diplomat_APAC) February 22, 2016
Sanctions on oil sales, banking transactions, exchange rates, plus inflation hit businesses across the board suffocating the economy.
Shahrokh Soufipour is an Iranian entrepreneur in the IT sector.
Sanctions made it difficult for him to import, especially from the US, so he had to improvise.
He also owns one of the most popular burger bar chains in Tehran. He spoke about the difficulties of doing business under the shadow of sanctions:
"There has definitely been stagnation in the food industry. We have neither gone forward nor backward. But in the IT industry we have seen less activity since last March compared to the same period of the previous year. And in our IT company, there are some constant costs, but we have been unable to cover them and this means failure."
I'm at Burger Land in Tehran http://t.co/Oom87HwSGspic.twitter.com/tLGfE69pOZ

— Armin Ranjbar (@ark4507) January 29, 2015
Mahshid ( Burger Land | برگرلند in Tehran) <a href="https://t.co/2IB8G4gzTA">https://t.co/2IB8G4gzTA</a> <a href="http://t.co/EDJVIg5NjD">pic.twitter.com/EDJVIg5NjD</a></p>— Saeid Khajevand (Saeid7K) September 19, 2014
Now the Iranian economy has the shackles off managing the potential will be just as vital as management under sanctions. With the market now open things could get tough for indigenous companies as competition comes knocking with cash and experience.
Shahrokh Soufipour continues: "Interestingly since the nuclear deal most of the billboards around Tehran have been taken over by car manufacturers, different cars, different brands and different companies. Some are new to Iran, some I don't know, some rare brands."
After the agreement oil exports are on the rise and the aviation business is taking off.
The first #airbus350 landed in Tehran, Mehrabad Airport. #irandeal#Iran#airbuspic.twitter.com/zPNbLoQuhA

— Omid Memarian (@Omid_M) February 21, 2016
The visit of President Rohani to Paris saw Iran shell out $27bn on 118 Airbus aircraft.
Irans Präsident zu Wirtschaftsgesprächen in Europa.Interesse an Airbus-Fliegern. https://t.co/oBwov7Ic3H#Rohanipic.twitter.com/kUXJ797ds1

— DW (Deutsch) (@dw_deutsch) January 25, 2016
Carmaker Peugeot is also on the scene to manufacture in Iran.
Mercedes Benz has just reopened after a long absence and Volkswagen, Renault, Kia, and Toyota are sniffing investments.
#iranclassiccar#mercedesbenz#benz#iran#tehran#old#oldcar#daimler#b#e#n#z#w108#lux#classic#car by iranclassiccar pic.twitter.com/3Faiqo2hEr

— oldcar photos (@oldcar_photo) February 3, 2016
Shahrokh is enjoying the attention:"You feel proud when you see that the day after the Vienna deal Europe is queuing up to come to Iran.This is a positive sign, which should be embraced. If you are clever you can see potential. I see a brilliant future for Iran."
Iran's GDP is the second biggest in the Middle East estimated at $406bn and with a population of 80 million, its a big market.
The IMF says Iran's economy will grow by four or five percent this year.
Tehran is also growing according to Shahrokh:
"I know a shopping centre is being built in the west of Tehran it will be the largest in the Middle East and this shows that economic conditions in Tehran and Iran are definitely moving in the right direction and those making the investments have already envisaged this."
#Tehran's city lights… https://t.co/ZpcjgvYg0xpic.twitter.com/rVzJXu1WeQ

— ArabianDate (@ArabianDate) January 6, 2016
The exposure of the Iranian market on the global stage is a sure- fire money-maker.
Domestic reform is next according to our correspondent Javad Montazeri in Tehran: "Iranian people and the business community are happy about the nuclear deal and its implementation. All eyes are now on domestic developments and the introduction of the reforms promised by President
Rouhani for the improvement of political and economic conditions in Iran."