FIFA's five presidential candidates
Comments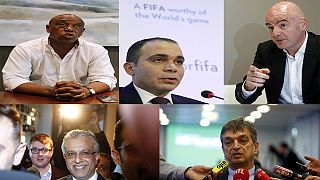 The FIFA presidential elections take place on Friday in Zurich Switzerland.
Five contenders are in the running to replace banned outgoing president Sepp Blatter as football's world governing body looks to recover from a disastrous 2015, which saw the organisation plunge into it's worst corruption crisis in its 111-year history.
Last year a total of 41 people and entities connected with FIFA were indicted by the US justice department on corruption charges, while Blatter and his once heir apparent Michel Platini were initially banned for eight years- later reduced to six – for breaching the governing body's code of ethics.
The five men looking to take FIFA into a brighter and cleaner future are: UEFA secretary general Gianni Infantino, who is one of two men pegged as favourites to be elected into world football's top job.
The other is Sheikh Salman bin Ebrahim Al Khalifa – the Asian Football Confederation president and Fifa vice-president from Bahrain.
Prince Ali bin Hussein – the founder and president of the West Asian Football Federation – will have another crack at the whip after losing to Blatter in last year's elections although the Jordanian royal remains an underdog.
Jerome Champagne is a former French diplomat and worked for Fifa for 11 years as an executive and an advisor to president Sepp Blatter. He left FIFA in 2010.
The final candidate is Tokyo Sexwale a South African former government minister and member of Fifa's anti-discrimination task force.
Sexwale was an anti-apartheid campaigner and was jailed for 13 years on Robben Island with Nelson Mandela.
The elections will be broadcast live on Euronews from 15:30 CET.