Dubai forum aims to boost education and innovation opportunities for women
Comments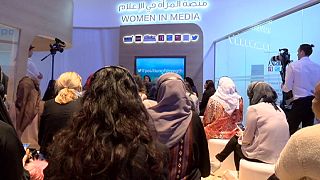 Boosting opportunities for women in education and innovation. That has been the theme of the second day of the Global Women's Forum in Dubai – attended by around 2,000 people.
Visitors have been taking part in lots of different workshops.
Big industry names such as Airbus have been helping to inspire those setting their personal development goals for the future.
Sustainable energy was also talked about at the event.
"We cannot stop wars, the forum was told, but can be contained through economic policies," said euronews reporter Rita del Prete.
"Women in the region, who feel they're bearers of peace, want to affirm themselves through innovation and scientific expertise."