Baby gorilla born after rare C-section
Comments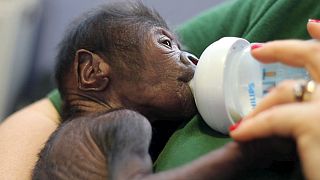 An baby western lowland gorilla has been born in the UK following a very rare emergency caesarean section, Bristol Zoo announced on Tuesday.
The female weighed about 2.2kg when she was removed after concerns about her mothers health.
"Along with having my own children, this is probably one of the biggest achievements of my life and something I will certainly never forget," said gynaecologist Professor David Cahill who delivered the baby.