Jordan: Bad weather forces closure of iconic Petra ruins
Comments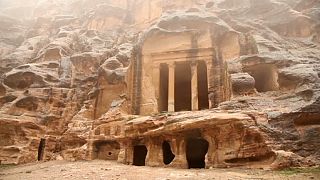 The ancient ruins of Petra in Jordan have been closed to visitors, amid fears of flash floods and rock slides.
Braving bad weather, tourists visited the lesser known Little Petra nearby instead.
It boasts temples carved into think rock canyons.
The rock carvings are the work of the pre-Roman Nabatean civilisation, which once stretched from Syria to Saudi Arabia.
المدينة الوردية خلال أمطار اليوم .. من صفحة المصور علي مساعدة #السياحة_راسمالنا#حب_الأردنpic.twitter.com/qCIBjclaxX

— Ministry of Tourism (@MOTA_Jordan) February 22, 2016
Despite the wet conditions keeping many visitors away, a local guide welcomed the weather as the rainy season has been unusually dry so far.
.