Uganda: opposition leader calls for protests after longtime president is re-elected
Comments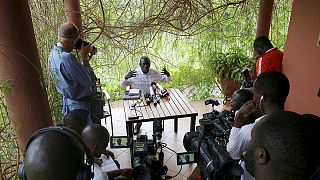 Uganda's main opposition leader has called on his supporters to protest after President Yoweri Museveni, in power for 30 years, won another five-year term.
Kizza Besigye, who says he has been under house arrest, has rejected the election outcome, claiming fraud.
If Uganda's election was so fair, why is the main challenger locked up? https://t.co/M0iLZ125njpic.twitter.com/wEpo83ZsQ6

— Kenneth Roth (@KenRoth) February 21, 2016
Museveni won 60.8 percent of the vote, according to officials.
Uganda President Yoweri Museveni wins fresh five-year term https://t.co/dk10bulN55

— Wall Street Journal (@WSJ) February 20, 2016
He has presided over strong economic growth, but is accused at home and abroad of repression of dissent and failing to tackle rampant corruption in the nation of 37 million people.
Museveni brought calm and stability to Uganda after decades of chaos under leaders Idi Amin and Militon Obote, but many opposition voters accused the former guerilla fighter of becoming increasingly autocratic and wanting to rule for life.
The opposition had tried to tap into mounting anger among young voters, especially in urban areas, where unemployment is high and many are frustrated by the poor state of schools and hospitals.