Bolivia's president set to lose referendum on fourth term, polls suggest
Comments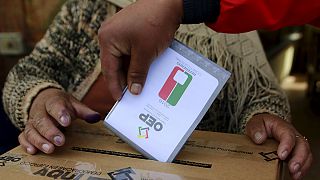 Exit polls and early results suggest Bolivian President Evo Morales is headed for defeat in a referendum on whether he can run for a fourth term in power.
He is seeking to change the constitution so he can stand for re-election in 2019.
Exit polls showed he may have lost the vote. An Ipsos poll had the "no" side at 52.3 percent and "yes" at 47.7 percent, while a Mori poll gave a narrower 51 percent to 49 percent lead to the "no."
Early official results had the "no" side winning with 66 percent of votes, although that covered only three percent of returns. Turnout had been very high, at nearly 88 percent, according to the electoral commission.
If the result is confirmed, it would be another blow for South America's once dominant populist leftist movement that has suffered a series of recent electoral defeats across the continent.
Morales, Bolivia's first indigenous president, has been credited with slashing poverty in one of the region's poorest countries by spending a natural gas windfall on welfare programmes and new infrastructure, since taking office in 2006.
He was re-elected in 2014 with 61 percent of the vote.
But a growing body of critics charge Morales' administration with corruption, waste and authoritarianism. Recent allegations about an ex-girlfriend whose company won lucrative government contracts have weighed heavily on his popularity.