US election race: Hillary Clinton wins in Nevada
Comments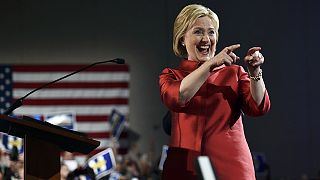 Hillary Clinton took another step along the road to the Democratic nomination for the 2016 US presidential election by winning the Nevada caucuses on Saturday.
Some may have doubted us but we never doubted each other
Her victory gives the former Secretary of State fresh momentum following her heavy defeat to rival Bernie Sanders in New Hampshire earlier this month.
"Some may have doubted us but we never doubted each other," she told jubilant supporters at a rally in Las Vegas.
Grateful. pic.twitter.com/EeAbi0sndt

— Hillary for Nevada (@HillaryforNV) 20 Février 2016
With 87 percent of precincts reporting, Clinton was leading with 52.5 percent of the vote to Sanders' 47.4 percent. Vote counting was delayed by heavy turnout.
Vermont Senator Sanders was hoping to prove his appeal to minority voters in Nevada – a state with a heavy minority population – and puncture Clinton's argument that he is a one-note candidate whose support is limited to mostly white states.
But entrance polling in Nevada showed he badly lost among black voters, by 76 percent to 22 percent, a bad omen for South Carolina and other southern states with big black populations.
He did however win among Hispanics by 53 percent to 45 percent and managed to close a one-time double-digit lead in the polls for Clinton, suggesting that this Democratic nominating race still has a long way to go.
I am very proud of the campaign we ran. Five weeks ago we were 25 points behind and we ended up in a very close election.

— Bernie Sanders (@BernieSanders) 20 Février 2016