Turkey: PKK releases three kidnapped journalists
Comments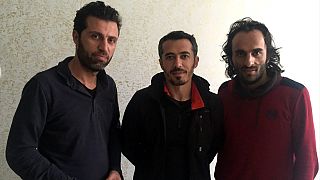 The Kurdistan Workers' Party or PKK has released three journalists from Turkey's state-run news agency after kidnapping them two days ago.
Anadolu Ajansı, Mardin'in Nusaybin ilçesinde iki gün önce kaçırılan 3 muhabirinin serbest bırakıldığını duyurdu. pic.twitter.com/LtHFeYzroJ

— Kamil Eryazar (@FarkliBirBakis_) February 21, 2016
Breaking: The three #Anadolu journalists kidnapped by PKK members in southeastern #Mardin province have been freed pic.twitter.com/hUK5jTlct9

— euronews (@euronews) February 21, 2016
The team from the Anadolu agency were identified as war correspondent Rauf Maltaş, photojournalist Onur Çoban and camera operator Kenan Yeşilyurt.
They were snatched more than 48 hours ago while on assignment near the city of Mardin in the mainly Kurdish south-east of the country.
Mardin'de PKK tarafından gözaltına alınan ve çıkarıldığı mahkemece tutuksuz yargılanan Anadolu Ajansı çalışanları pic.twitter.com/oW4BlppIIf

— Filiz dağlıca♀ (@Cerablus_) February 21, 2016
#Turkey: 1 Journalist + 2 Cameramen from Anadolu Agency (anadoluagency</a>) detained by <a href="https://twitter.com/hashtag/PKK?src=hash">#PKK</a> militants in <a href="https://twitter.com/hashtag/Nusaybin?src=hash">#Nusaybin</a>. <a href="https://t.co/jFtTER8NwA">pic.twitter.com/jFtTER8NwA</a></p>&mdash; archicivilians (archicivilians) February 21, 2016
The agency says they were held at an unknown location. Security sources think they were filming in the region without clearance from the PKK.
Southeast Turkey has been gripped by violence since the collapse last July of a ceasefire between the PKK and the Turkish government.
Who are the

PKK

?
The PKK has waged a three-decade long insurgency for autonomy against the Turkish government.
More than 40,000 people have been killed.
Ankara, Washington and the EU consider the group a terrorist organisation.
Recent developments
The government has accused the PKK of being behind a car bomb in Ankara on Wednesday that killed 28 people.
A splinter Kurdish militant group, the Kurdistan Freedom Hawks or TAK, has since claimed responsibility for the atrocity.
The Turkish government has dismissed the claim, saying TAK is shielding the international reputation of the Syrian Kurdish fighters, who Washington is backing in the fight against Islamic State.