US air raid strikes at ISIL targets in Libya
Comments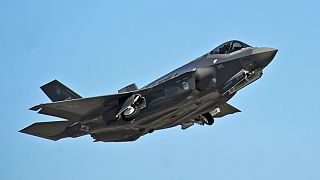 American fighter jets have carried out airstrikes in Libya, targeting the self-styled Islamic State group.
The US military says it targeted a senior Tunisian militant linked to two major attacks in Tunisia last year.
Reports say around 30 or 40 people, most said to be ISIL recruits, have been killed.
The overnight raid centred on a house not far from the Libyan capital Tripoli, at Sabratha.
An official in the town said the house that was hit was completely destroyed – adding that most of the dead were Tunisians who were probably ISIL members.
The air raid is said to be significant and to have been driven by intelligence.
Acc to sources in #Libya: Loud explosions today at 03.45 AM, a compound targeted in area called: Qasr Tleyl, west #Sabratha. > libyaalaan</a></p>&mdash; Jenan Moussa (jenanmoussa) February 19, 2016
#US Strikes #ISIS Camp in #Libya, Killing More Than 30https://t.co/z5BhAGZDJWpic.twitter.com/GUAo0qGZug

—

TRAC

terrorism.org (@TRACterrorism) February 19, 2016
A US officer said among those targeted was Nourredine Chouchane, believed to be connected to the attack on the Bardo museum in Tunis last year in which more than 20 people were killed.
He is also said to be linked to the mass shooting near the resort of Sousse three months later which left almost double that number dead.
It's thought both attacks were carried out by gunmen who trained in Libya.
Senior ISIL fighters are said to have recently moved to Libya from Iraq and Syria. Libya has slid further into chaos since its former leader Muammar Gaddafi was overthrown five years ago, with two rival governments operating, backed by rival factions of former rebel brigades.
A Pentagon commander said they were assessing the results of the airstrikes.
#LIBYA#US Airstrikes On #IslamicState Position In #Sabratha, Targeted #Tunisian Militant Noureddine Chouchane. pic.twitter.com/Mxp8AtWBWw

— Terrormonitor.org (@Terror_Monitor) February 19, 2016