Russia detains airport owner over 2011 suicide bombing
Comments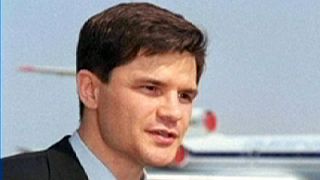 Russian President Vladimir Putin has been told about the arrest of the owner of one of Russia's largest airports, according to Kremlin spokesman Dmitry Peskov.
Dmitry Kamenshchik owns Moscow's Domodedovo airport where a suicide bombing killed 37 people five years ago.
Kamenshchik faces charges over the lack of scanning equipment on entry to the airport which allowed the bomber to bring explosives into arrivals hidden under his clothes for the attack that killed 37 people.
The airport owner was detained overnight after arriving voluntarily for questioning as a witness at the powerful Investigative Committee.
Kamenshchik faces up to 10 years in prison after being charged with providing unsafe services that caused multiple deaths.
Domodedovo airport said in a statement that Kamenshchik's detention was "groundless." It said the airport would continue operating as normal.
The Investigative Committee said in a statement that Kamenshchik and other officials "introduced a new system of inspection at the entrances to the airport, which increased the airport's vulnerability."
The airport argues that 2010 legislation allowed airports not to put all those entering the building through a metal detector, instead opting for selective inspection. It denies it was economising on security measures.
"The transport safety of the airport met and meets the legal norms," Kamenshchik said at a briefing on Wednesday, adding that "the law has evolved."
Kamenshchik arrived at the Investigative Committee on Thursday carrying a bag of personal belongings, an indication he expected to be detained, Kommersant daily reported.
"I'm not afraid because I know that I have the truth behind me," he told journalists.
Russian Forbes magazine last year listed 47-year-old Kamenshchik as Russia's 27th richest businessman.
Russia earlier this month arrested three former and acting airport officials in the same probe.
Bomber Magomed Yevloyev died in the attack in January 2011 claimed by the Caucasus Emirate movement of Islamist warlord Doku Umarov.
Russia in 2013 sentenced three men to life in prison for their roles in helping the suicide bomber.
Domodedovo, Russia's only privately controlled airport, has been rebuilt from an ageing Soviet relic to a bustling hub used by 86 airlines.
After the attack the authorities voiced concerns over Domodedovo's complex ownership structure. The state owns a blocking stake in the two other major Moscow airports, Sheremetyevo and Vnukovo.
Kamenshchik at a briefing on Wednesday denied that the criminal case was linked to any "conflict with the government."
AFP