Ukraine's ruling coalition loses majority after second party quits
Comments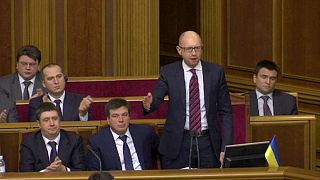 Ukraine's government is facing the risk of collapse after a second party quit the ruling coalition.
The move increases pressure on Prime Minister Arseny Yatseniuk to find new allies
or face a snap election.
Explaining the decision to leave the alliance, Oleh Berezyuk, the leader of the Self Reliance party accused government leaders of breaking promises made during the elections: "I'm talking about the Prosecutor General they appointed and the government they saved; this government is riddled with corruption and people want it dismissed."
It comes a day after another party led by former prime minister Yulia Tymosenko quit the coalition.
But Oleh Lyashko, leader of Ukraine's Radical Party, which was part of the coalition last year, suggested there was hope of avoiding a fresh crisis.
"Snap elections will be a realisation of Putin's plan to destabilise Ukraine. In order to prevent it we have to form a new coalition," he said,
The government survived a no-confidence motion in parliament on Tuesday but some critics say it was because Ukraine's powerful businessmen swung the vote by leaving the chamber without casting a ballot.