Syrian Kurdish party denies Ankara attack
Comments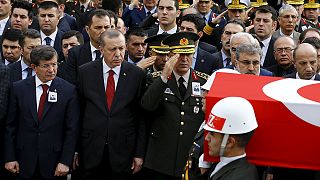 As the funerals for the 28 soldiers who died in Wednesday's suicide bomb attack in Ankara take place, Turkey is on the offensive.
The Turkish government has blamed the YPG, the armed wing of Syria's Democratic Union Party, and it has shelled some of its positions across the border in Syria.
But a representative of the party, speaking from Kurdish controlled Irbil in northern Iraq, denied responsibility.
Gharib Hassou outlined what he believes Turkey's political agenda really is.
"Turkey is very upset with the gains of the Syrian Democratic Forces and the YPG/YPJ. They want to see us go to the border and burn down one of their positions. They want us to launch an operation from our territory to theirs so that they'll have the excuse to intervene," he said.
Most of the bomb attacks Turkey has endured in recent months have been blamed on ISIL but not this time.
Not only has Turkey's President Recep Tayyip Erdogan blamed the YPG, he has also said that other Kurdish militants were involved.
"Those who head the PYD and PKK say this has no connection with them, but based on the information obtained by our interior minister and our intelligence agencies, it has been identified that this was done by them," he said on Thursday.
As he spoke, Turkish warplanes were bombing the camps of the outlawed Kurdistan Workers Party (PKK) in northern Iraq. The PKK has been leading an on-off insurgency inside Turkey for decades and now that fighting is increasingly spilling over Turkey's borders.