Turkey grows tense after bomb attacks
Comments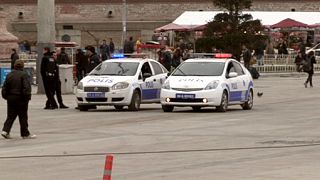 Istanbul is a tense city now after Wednesday's car bomb attack in the Turkish capital Ankara.
The city's famous Taksim square would normally be bustling but not anymore. Now it's nearly empty and tourists are noticeable by their absence.
Security forces seem to have taken their place, adding to peoples' fears.
"When I was walking with my friend now we avoided the crowd and we took the empty side of the street. We avoid crowded places. Everywhere we see policemen. Everybody is nervous and we are also nervous," one man said as he was walking through the square.
The economy has taken a big hit too and it seems the bombings have had their intended effect and made people worried about what happens next.
"We do not want attacks like this happen. We are young but we are not sure of our future. We have lost hope. Job offers, especially in tourism, have decreased due to terrorism," said another man crossing the square.
Most of the bombings in the past year have been blamed on Islamic State militants – although the government has blamed the latest attack in Ankara on Kurdish militants. Whichever group or groups are behind the bombings Turks fear that their is being dragged ever deeper into a vortex of violence.
The military are getting more deeply involved in the war in neighbouring Syria whilst it is also trying to contain some of the fiercest violence in decades in its predominantly Kurdish southeast.