Pope suggests contraception could be allowed for women facing Zika virus
Comments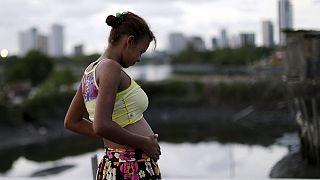 Pope Francis looks to have suggested that the Roman Catholic Church could soften its ban on contraception for women facing the Zika crisis.
Avoiding pregnancy is not an absolute evil
On the flight home after his trip to Mexico, he cited the decades-old case of one of his predecessors, Pope Paul VI, allowing nuns in Africa to use birth control because they risked being raped in political conflicts.
"Avoiding pregnancy is not an absolute evil," Francis told reporters on Thursday.
"In certain cases, as in this one, such as the one I mentioned of Blessed Paul VI, it was clear."
The Argentine pontiff said Paul, who reigned from 1963 to 1978, had responded to "a difficult situation in Africa", suggesting that a papal precedent existed.
Francis did not say exactly when his predecessor made the exception, but it was believed to be in the 1960s in what was then the Belgian Congo. Little is known of the episode, which was not publicised at the time.
He stressed there would, however, be no change to the Vatican's position on abortion, calling it "a crime" and "an absolute evil".
Many scientists believe that mosquito-borne Zika, which is sweeping through Latin America, is a risk factor for microcephaly in newborns – a condition in which infants are born with abnormally small heads.
If not for microcephaly, "we wouldn't be here talking about Zika." https://t.co/v6iYbgrapYpic.twitter.com/eNxbTOI0ba

— Forbes (@Forbes) 18 Février 2016
Brazil, which has been hardest hit, is investigating the potential link between Zika and nearly 4,500 suspected cases of microcephaly. Researchers have identified evidence of Zika infection in most of 508 confirmed microcephaly cases, either in the baby or in the mother, the health ministry said on Wednesday, but have not confirmed that Zika was the cause.
Officials in Brazil, where some 65 percent of citizens are Catholics, have urged women to avoid getting pregnant until the epidemic is under control.
The crisis is putting pressure on Church doctrine that bans all forms of contraception, and has even stoked a debate over abortion in many conservative Latin American nations.
Pregnant women 'begging for abortion pills' due to Zika fears https://t.co/srZaKpHh7m

— The Independent (@Independent) 18 Février 2016
In his comments on Zika, Francis also urged the medical and scientific communities to do everything possible to find out more about the disease.
"I would also like to exhort doctors to do everything to find vaccines against the mosquitoes that bear this illness. We have to work on that," he said.