Mass anti-government rally in Pristina to mark Kosovo independence
Comments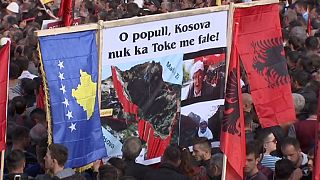 Tens of thousands have gathered in the Kosovan capital, Pristina, to call for the resignation of the government and early elections.
The day marks the eighth anniversary of Kosovo's unilateral declaration of independence from Serbia.
Opposition gathers thousands in #Pristina for anti-government rally on #Kosovo Independence Day pic.twitter.com/SQAJOzz9KL

— Sara de Melo Rocha (@SaradeMeloRocha) February 17, 2016
The opposition are furious with the government for signing up to a deal, brokered by the EU, to hand greater powers to the Serb minority.
3 #Vetevendosje officials wanted by police have appeared in crowd at #protests in #Pristinahttps://t.co/uAR8Mubzl7pic.twitter.com/pfYBVAG70U

— Balkan Insight (@BalkanInsight) February 17, 2016
Opponents say the move will only increase ethnic divisions in the war scared country and boost the influence of Serbia in Kososvo.
Our House of Commons is rowdy, but:
Opposition politicians throw tear gas in Kosovo's parliament. Pristina pic.twitter.com/QS6cL5UpOt

— Ade (@Inheritance_Ade) December 15, 2015
Mask against gas, after opposition deputies tear gas shed new session, Pristina, Kosovo. pic.twitter.com/Imaec46Nuq

— Alberto Allen (@albertoallen) December 14, 2015
Over the past four months the day-to-day running of the parliament has been hampered by opposition MPs systematically releasing tear gas into the debating chamber at the start of every session.