High hopes Japanese satellite will unravel mysteries of Universe
Comments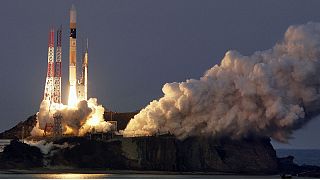 A rocket carrying an astronomy observation satellite has been successfully launched from southern Japan.
ASTRO-H is equipped with four telescopes designed to study black holes.
Japan launches satellite to study black holes https://t.co/jKKupUwVyNpic.twitter.com/7iVVKSLZjR

— The Express Tribune (@etribune) February 17, 2016
Dubbed an "astronomical observatory in space", it has the capacity to capture X-rays that otherwise escape detection on Earth.
These rays will then look at what is happening around black holes, which cannot be directly examined optically.
Researchers also expect to retrieve valuable information on other astronomical phenomena — such as the formation of galaxy clusters — which will help further unravel some of the mysteries of the Universe.
#Japan launches #H2ARocket carrying astronomy satellite - The Mainichi https://t.co/E0aD2fKimupic.twitter.com/fQsOW5DGCj

— The Mainichi (@themainichi) February 17, 2016
ASTRO-H space observation satellite built with the help of Dublin Institute of Advanced Studies lifts off from Japan pic.twitter.com/bvx9mM57Nm

— Will Goodbody (@willgoodbody) February 17, 2016