Erdogan: Turkey will 'give as good as it gets' against Kurdish forces
Comments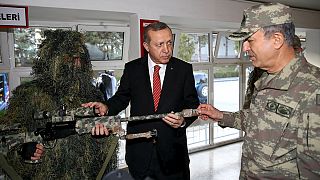 Turkey's president has insisted that the country's military will not stop shelling Kurdish positions in Syria in response to cross-border fire.
Turkey will give as good as it gets
It follows concern at the UN over the attacks on Kurdish YPG militia targets.
On Tuesday the Security Council called on Turkey to abide by international law. But that brought a typically robust response from President Erdogan.
"Turkey will give as good as it gets", he said in a speech broadcast live on Turkish television.
"Today our rules of engagement may be just about responding to an armed attack against our country, but tomorrow if necessary those rules can be expanded to cover every threat against our country. Nobody should doubt that. We will never allow the formation of a new Qandil on our southern border," he said, referring to the mountains of northern Iraq where the outlawed PKK has bases.
He added that the United States should decide whether to support Turkey or the Kurdish insurgents.
The speech followed Erdogan's criticism of Russian and Syrian forces on Tuesday on what he called "brutal operations" aimed at creating a corridor for Kurdish fighters. The militias from the YPG and its PYD political wing are terrorist organisations, he said.
"The PYD is a terrorist organization just like Daesh" https://t.co/ePAEmZvtYppic.twitter.com/sd8PZC7SeJ

— Turkish Presidency (@trpresidency) February 17, 2016
The president had already accused Russia of war crimes after missile attacks that hit hospitals and other targets killed scores of people.
Moscow has denied having the capacity to make such strikes from its Caspian Sea fleet, as it claimed Ankara had suggested.
"The Caspian flotilla does not have a single boat capable of launching such ballistic missiles," Russian Defence Ministry Igor Konashenkov said.