Eagles of Death Metal 'finish' gig cut short by Bataclan massacre
Comments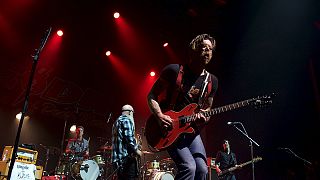 After an interval of three months and three days, Eagles of Death Metal have finished the gig which was cut short by the deadly Bataclan shootings.
The Californian group made an emotional return to Paris to headline their first concert there since the attack, in which four Islamists killed 89 people. A further concert-goer died later.
During the opening song, frontman Jesse Hughes took time out to remember those who died in the Bataclan.
"89 seconds of silence please. Let's take a moment to remember and we get back to the fun."

Les Eagles of Death Metal sur la scène de l'Olympia
Close to 2,000 people attended the show at the Olympia. The venue has previously hosted the likes of Edith Piaf, Frank Sinatra and The Rolling Stones.
The Bataclan has been closed since the attack. Hopes are high it will reopen before the end of the year, though, and Hughes has already expressed his desire to be the first to play there.
"We noticed a lot of people on crutches, I presume it was people that were injured before, when this happened in November."
Fans who'd been at the fatal November gig were offered free tickets.
At the end of the concert, Julien, a Bataclan survivor said:
"The show was perfect. It was beautiful. I was there on November 13, so it was a bit hard at first. But then, with the show, it was great. We all cried a little – I saw that in the crowd – it was very beautiful, really."
Vive la musique, vive la liberté, vive la France, and vive EODM.

Thank you for this, Paris. pic.twitter.com/3W3GKT5qsk

— EaglesOfDeathMetal (@EODMofficial) February 17, 2016
There was a heavy police presence in and around the Olympia, as well as a number of psychologists on hand.
The assault on the Bataclan was the deadliest in a series of coordinated attacks around the French capital, in which 130 people were killed. ISIL later claimed responsibility.