Seven killed in Russian gas blast
Comments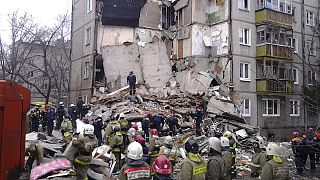 A powerful gas explosion that destroyed an apartment block in Russia has left at least seven people dead including two children.
Other people were feared trapped in the rubble after the blast ripped through the five-storey block in the city of Yaroslavl, about 250 kilometres north of Moscow.
It's thought that up to 20 people may have been in the building at the time.
"Our windows started to shake. The alarms on the cars went off. I didn't hear anything else, but it was terrifying," said a woman who lives in a neighbouring block.
Rescue workers pulled at least four people alive out from the debris. Up to ten flats were reportedly destroyed.
Gas explosions in old residential buildings in Russia are commonplace: last year there were 15 blasts, while 2014 saw 18 incidents.