Renard appointed coach of Morocco
Comments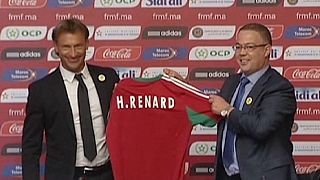 Herve Renard was presented as the new coach of the Morocco national football team this week as the Frenchman takes his managerial career back to Africa.
The 47-year old – who in November was sacked as coach of French club Lille after just 13 games in charge – has signed a three-year deal with the Royal Moroccan Football Federation.
Renard – who was recently linked to the Egypt managers job said: "It's true that I have had many offers, when you have been coaching several national teams on the continent. It seems to me that, and I hope I am not wrong, the project of the Moroccan FA is an ambitious one and very much achievable, given the right amount of time, to achieve very good results."
Renard is well known in Africa as he's the only manager to win the Africa Cup of Nations with two different teams.
In 2012 he guided Zambia to the title beating the heavily star-studded Ivory Coast in the final.
Three years later he won his second Africa Cup of Nations crown – that time was with the Ivory coast.