Ex-UN Secretary General Boutros-Ghali dies at 93
Comments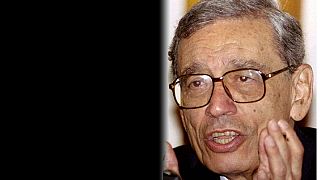 The former United Nations Secretary-General Boutros Boutros-Ghali has died.
The news was announced at the UN Security Council by its president for February, the Venezuelan UN Ambassador Rafael Dario Ramirez Carreno.
Boutros-Ghali, who was 93, served one term as UN chief from 1992 to 1996.
An Egyptian, he was the first Arab secretary-general, and the first from Africa. He associated himself with the famine in Somalia and organised the first massive UN relief operation in the Horn of Africa nation.
But elsewhere his efforts proved less successful as the world struggled to come to terms with the
post-communist period, underestimating the intensity of many conflicts.
Boutros-Ghali was criticised for the UN's failure to act during the 1994 Rwandan Genocide.
The organisation was also seen as impotent in the face of the wars in the Balkans, and he was jeered during a visit to Sarajevo.
Upon news of his death, the UN Security Council observed a minute's silence in tribute. No further details were immediately available.
Thoughts with the family of Boutros Boutros-Ghali today. Led UN</a> during 1 of the most difficult periods in history. <a href="https://t.co/wJWCXObyrv">pic.twitter.com/wJWCXObyrv</a></p>&mdash; UKUN_NewYork (UKUN_NewYork) February 16, 2016