Assad criticises Munich deal saying it's 'unenforceable'
Comments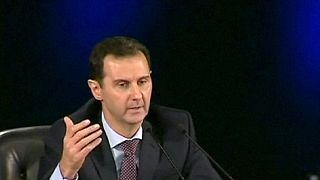 "Ceasefire doesn't mean each party will stop using weapons"
"Who will hold terrorists to account?"
"Political transition is subject to Syrian constitution"
Hopes of a rapid ceasefire in Syria have been dismissed by Bashar al-Assad. In a televised speech made to Syria's top lawyers, the president said a cessation of hostilities as agreed by world powers in Munich was not possible by the end of the week., contrary to US and Russian plans.
"Until now, we hear about them requesting a ceasefire within a week. Ok, then who is capable of bringing together all these conditions within a week? No one. Who will speak to the terrorists if a terrorist organisation refuses to adhere to the ceasefire, who will make them accountable?
Full text of President Bashar Al Assad's meeting with members of the Central Bar Associationhttps://t.co/Iius4mnYkTpic.twitter.com/Aie7ChJyj1

— M Green (@MmaGreen) February 15, 2016
Assad also said that any political transition in the country must be subject to the existing Syrian constitution and went on to belittle Turkey and Saudi Arabia.
"They (Turkey and Saudi Arabia) are merely following orders. Their present role is to blow their own trumpets in order to try and blackmail us if we go to another round of talks and are threatening us with a ground invasion if we don't offer concessions. If they were allowed to do this, they would have done so a long time ago, at least a few months ago."
Despite Assad's scepticism the UN envoy to Syria, Staffan de Mistura, has made a surprise visit to the capital Damascus as part of his efforts to " follow up" on commitments made in Munich.