Flu and weather made 2015 the deadliest year in France since World War II
Comments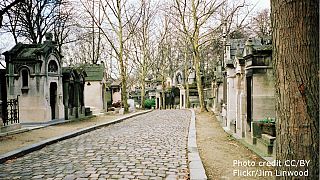 The year 2015 has been the deadliest in France since the end of World War II according to official figures, a toll attributed to the weather and epidemics. In total, 600,000 died in France in 2015, an unprecedented figure since 1945. It is 41,000 more than in 2014, according to the INSEE, the French statistical institute.
Within the context of an ageing, INSEE analysts attribute the yearly increased mortality to extreme weather and disease. Weather is said to account for part of the year's abnormally high mortality rate. The heatwave of July 2015 caused 2,000 more deaths than occurred in the previous July, and the 4,000 additional deaths in October 2015 compared to October 2014 was attributed to an early cold snap.
In addition, a 9-week long particularly harsh flu epidemic had a decimating effect on people aged 65 and over during the first three months of the year. The INSEE says it caused 24,000 extra deaths.
To make things worse, the institute mentions aggravating factors for this year's flu, with lower vaccination rates among senior citizens and a vaccine that was not efficient against some of virus strains, which were especially dangerous for weakened individuals.
As a consequence, the life expectancy at birth in France has decreased slightly, -0.4 year for women and -0.3 year for men. It is now 85 years for women and 78.9 years for men.
66.6 million inhabitants in France
Despite the increased mortality, the overall population of France grew by 247,000 people, an increase of 0.4%, to reach 66.6 million inhabitants. Some 800,000 babies were born in France in 2015, 19,000 less than in 2014.
INSEE states that births are diminishing because of the population of child-bearing age females is decreasing. But births are still driving France's demographic growth, migration being a distant second cause, according to analysts.
Accordingly, the fertility rate in France dropped slightly in 2015, at 1.96 children per woman, versus 2.00 in 2014. It is the fertility rate among women 35 and younger that dropped this year, the rate for older women staying the same.