Belgian romantics take plunge in sea to celebrate Valentine's weekend
Comments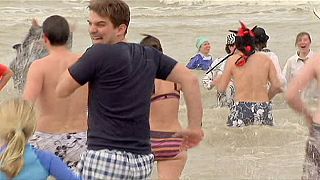 Forget flowers and chocolates. Belgians have been celebrating the Valentine's weekend by taking a romantic plunge in the sea.
Kitted out in fancy dress, they braved chilly temperatures along the coast at Koksijde.
The event also raised money for charity, with funds going towards a facility for children with cancer.