Ski Jumping: Kranjec wins first event in three years
Comments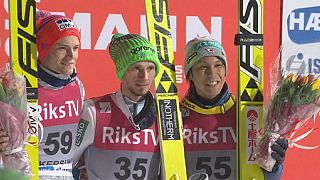 Robert Kranjec returned to the ski jumping winners circle for the first time in three years after victory at a ski flying event in Vikersund in Norway.
Kranjec – whose last win came at the same site in 2013 – was second after the first round with 236 metres.
He then jumped to the top of the podium with a second round leap of 239.5 metres.
It was his sixth career world cup success.
Second place went to Norwegian Kenneth Gangnes – much to the delight of the home crowd.
His first round jump of 234.5 put him in the lead before slipping down the leaderboard one place after a second jump of 235 metres.
Japan's 43-year old veteran high flier Noriaki Kasai posted rounded off the podium for his third consecutive third place finish on the world cup circuit.
Overall world cup leader Peter Prevc of Slovenia who has won a staggering nine events this season had to settle for fourth place.