Greek farmers' pension protests bring violence to Athens
Comments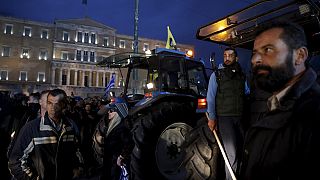 A day of violent farmers' protests in Greece blazed on into the night as police fought demonstrators in the capital for the first time over pension and other reforms.
Farmers brought their tractors to Athens with them and drove past parliament, snarling up the capital's traffic after weeks of road and border blockades. A number set up tents in the main square.
Farmers are angry at changes they say will leave them poorer.
"We are not leaving from here unless the government withdraws its plans. The farmers are the backbone of the economy, that's all I have to say," said one man.
"We can't live, we can't survive. We are here on a national cause. The Greek state has collapsed and we are here to collect the pieces," said another.
Earlier this week the prime minister offered a meeting to review the harshest reforms. He was turned down.
"One year ago farmers were among the front liners of SYRIZA supporters and their votes considerably helped Alexis Tsipras' left wing party's bid for power. The tides have turned now as they have become the most ardent opponents of the SYRIZA-led government's plans to increase social security contributions," says euronews' Stamatis Giannisis.