Two female suicide bombers kill over 60 in Nigeria
Comments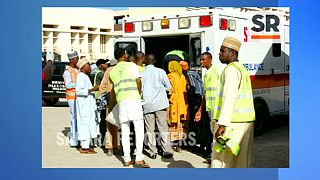 More than 60 killed in twin bombing in Nigeria
Two female suicide bombers blow themselves up
Attack targets displaced people camp
More than 60 people have been killed in north east Nigeria after two female suicide bombers detonated their explosive vests.
The pair reportedly walked into a 50,000 strong refugee camp filled with people fleeing the insurgency in the north by the jihadist Boko Haram group.
A third woman was arrested after refusing to set off her bomb when she realised her family were among those inside.
Female suicide bombers kill 56 at camp for those fleeing Boko Haram https://t.co/bwdf4IsUidpic.twitter.com/ncjBzASmCf

— The Telegraph (@Telegraph) February 10, 2016
The attack took place 85 km near the town of Dikwa in Borno state.It happened on Tuesday but a breakdown in the phone system delay the news of the atrocity.
No group has claimed responsibility but the Nigerian authorities said the attack bore the hallmarks of Boko Haram which has frequently used female bombers and even children to hit targets.
It comes shortly after the Nigerian army attacked strongholds near Kalabalge, killing dozens of Boko Haram fighters and rescuing hundreds of woman.
The militant group has recently increased the frequency and deadliness of attacks with three at the end of January. At least 65 people were killed outside Borno state capital Maiduguri on Jan 31.
Since it lost territory to a government counter-offensive last year, Boko Haram has reverted to hit-and-run attacks on villages and suicide bombings at places of worship or markets.
Boko Haram has only rarely targeted camps housing people displaced by the conflict and Tuesday's attack was the first one to kill victims in Borno state.