North Korea: broadcasts footage said to show latest missile launch
Comments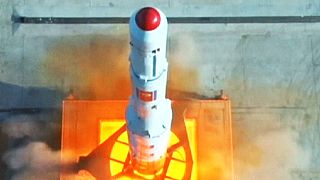 We piled up food and drinks in our warehouse so North Korean workers could eat for free
KRT

broadcasts footage
South Korean workers leave Kaesong
US, Seoul and Japan agree to pool resources
US Senate agrees to toughen sanctions
The news
North Korea's missile could hit U.S. https://t.co/2pzU4Pq1uJpic.twitter.com/M7sQ8Orhku

— The Daily Beast (@thedailybeast) February 10, 2016
Senate OKs new North Korea sanctions. https://t.co/lBHHmVQ5SQ. pic.twitter.com/bbXTdPDS6J

—

CNN

Breaking News (@cnnbrk) February 10, 2016
North Korea has broadcast footage said to show the launch of a long-range rocket.
North Korean leader Kim Jong un is also seen visiting the command centre at the launch site.
However, there is no date on the footage from Korean state broadcaster, KRT.
Tit-for-tat
Angry end to symbol of inter-Korean cooperation as joint #Kaesong industrial park shuts https://t.co/NyDDzYLl84pic.twitter.com/YytdNHW3Km

— ST Foreign Desk (@STForeignDesk) February 11, 2016
South Korean employees have begun leaving the Kaesong Industrial complex.
It comes after the government in Seoul decided to suspend its involvement in the factory, which is just inside North Korea.
Unification Minister Hong Yong-Pyo at the IFES-FNF international conference "Doing #business in #NorthKorea" fnfasia</a> <a href="http://t.co/45f9qOVrPV">pic.twitter.com/45f9qOVrPV</a></p>&mdash; Rainer Rippe (RainerRippe) June 10, 2015
South Korean Unification Minister Hong Yong-pyo said North Korea is suspected of using money from the complex on its nuclear weapons and long-range missile programme.
A South Korean government official is quoted as saying the decision was taken reluctantly and it is difficult to see how operations could be resumed in the near future.
What is the Kaesong complex?
Photos from my 2013 trip to North Korea's Kaesong industrial park, and here's our latest: https://t.co/SN7tnDJv0Apic.twitter.com/1SErPXKVvC

— Sam Kim 김혜성 (@samkimasia) February 11, 2016
Kaesong is one of the few examples of cooperation between Seoul and Pyongyang.
The complex is just on the North Korean side of the heavily-defended border between the two countries.
54 km north-west of Seoul
124 South Korean companies on site
Small and medium-sized businesses
54,700 North Koreans employed at the site
Shut down for five months in 2013 due to tensions
Generated 110bn

USD

(97bn euros) in 2015
Average wage is 160

USD

(141 euros) a month
It offers a rare opportunity for Koreans divided by the 1950-53 war to interact on a daily basis.
Except for Kaesong, both countries forbid their citizens from communicating with each other across what is the world's most-fortified border.
Why is this happening?
January 6th – a fourth nuclear test by North Korea reported
February 7th – "long-range missile launch* reported
There is increased tension on the Korean peninsula following a rocket launch last Sunday and fourth nuclear test by North Korea last month.
South Korea has joined the US in calling for further UN sanctions against Pyongyang.
Mounting pressure on Pyongyang
Senate votes overwhelmingly for tougher North Korea sanctions https://t.co/IFZSSeOtGs

— Reuters Top News (@Reuters) February 10, 2016
The US, South Korea and Japan agreed late on Wednesday to share more information and coordinate security operations in the region
The US Senate voted unanimously on Wednesday in favour of tougher sanctions on Pyongyang
US and South Korea to begin formal talks on deploying the US Terminal High Altitude Area Defense system (

THAAD

) on the Korean peninsula at the "earliest opportunity"
Spoke with Korea FM Yun Byung-se on urgent need for robust international response to #NorthKorea illegal acts pic.twitter.com/HLNcMFrUYS

— Samantha Power (@AmbassadorPower) February 10, 2016
What they are saying
"The test and launches are direct violations of UN resolutions and are serious provocations against the international community. We agree to firmly respond to Pyongyang's actions through trilateral information-sharing and to coordinate and to coordinate further on mutual security issues to enhance peace and security in the region." – Statement from Chiefs of Defense of US, South Korea and Japan.
"Putting our peoples' safety as a top priority, our military is fully prepared to deal with any contingency which can happen in the Kaesong Industrial Complex." – Moon Sang-gyun, South Korean Defence Ministry spokesperson.
"We joked about Kaesong shutting down but I was surprised when it really happened. Personally, I feel sorry for North Koreans. They are far more worried than we are." – Kim Soo-hee, a South Korean nurse at Kaesong
"We piled up instant noodles, bread and drinks in our warehouse so North Korean workers could come eat and eat for free. We don't mind them eating our food, we only care about them working hard." – Lee Jong-ku, electrical factory owner at Kaesong