London's Black Cabs protest against Uber
Comments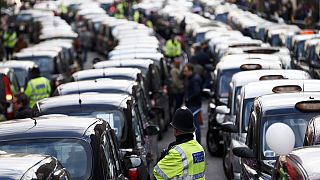 Thousands of London's traditional Black Taxis blocked roads near parliament in protest on Wednesday against the car-sharing service app Uber, calling for government intervention.
8,000 black cab drivers bring central London to a standstill in protest against Uber https://t.co/eam7IP22Abpic.twitter.com/yxTZGuvmzC

— Daily Mail U.K. (@DailyMailUK) February 10, 2016
They are angry that Uber is being allowed to avoid paying taxes and adhering to taxi regulations by presenting itself as an I.T. company.
The London taxi representative for trade union UNITE said that Uber acted like it was above the rules and that the government was letting them do it.
Founded in 2009, the San-Fransisco based taxi app has faced legislative and regulatory hurdles worldwide and opposition from traditional taxi drivers across many European cities.