France's Hollande reshuffles government with an eye on 2017 poll
Comments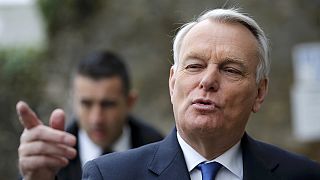 France's former prime minister Jean-Marc Ayrault is now back at Francois Hollande's side in a new role.
Ayrault replaces Laurent Fabius as Foreign Minister.
An Hollande loyalist and fluent German speaker, Ayrault is seen as a safe pair of hands.
He will now serve in the team of current premier Manuel Valls alongside other noteworthy new arrivals.
Emmanuelle Cosse has quit as head of France's Greens to become Housing Minister. Two other dissident Greens including Jean-Vincent Place have also joined the government.
It is a government given three big priorities by Hollande, according to a TV interview on Thursday evening – security, employment and the environment.
By looking beyond his Socialist Party, Hollande, dogged by deep unpopularity and anger over unemployment, seems to be trying to improve his chances of re-election in 2017.
But analysts have cast doubt on his tactics with the government's policy agenda remaining the same.