Zsa Zsa Gabor admitted to hospital
Comments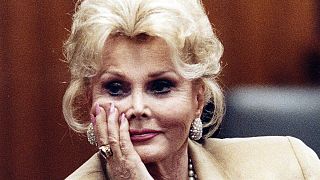 Star of Hollywood's golden age, Zsa Zsa Gabor has been admitted to hospital in California with breathing difficulties. The 99-year-old actress has struggled with ill health for some time.
A former Miss Hungary winner in 1936, Gabor emigrated to America in 1941. She went on to make more than 40 films including "Moulin Rouge" and "Lili".
However she is probably best known for her marriages – she married nine times – her jewellery and her lifestyle.
Gabor has been confined to her home for years following the 2011 amputation of her leg and other complications.
Gabor's ninth and current husband is Frederic Prinz von Anhalt.
"She talks a little but not very much. She is hanging on. I hope she will hang on for a couple more years, and celebrate her 100th birthday next year. I think everything will be ok," he said.
FoxNewsEntertainment Zsa Zsa Gabor, 99, reportedly hospitalized: Legendary actress Zsa Zsa Gabor was reportedl… https://t.co/cTks5×70aC

— Cesar CD (@cesarcd) February 9, 2016