World powers arrive in Munich hoping to resurrect Syrian peace talks
Comments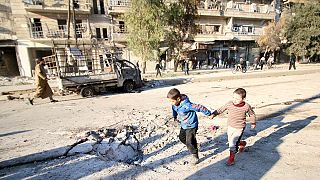 US Secretary of State John Kerry has arrived in Munich hoping to resurrect Syrian Peace talks . He's pushing for a ceasefire for humanitarian aid to get through.
World powers including Saudi Arabia, Iran and Russia are all taking part but rebels are staying away unless a Russian bombing offensive stops.
Moscow has reportedly proposed a March 1 date for a ceasefire but it's also reacted angrily to US allegations that its using " dumb bombs" as part of its bombing offensive. Last week, John Kerry accused Russia of using imprecise "free-fall" or "dumb bombs" that have killed large numbers of civilians in Syria.
Russian Foreign Ministry spokesperson Maria Zakharova speaking in Moscow dismissed the US allegations:
"We consider statements, public statements of US representatives, that Russia is using unguided 'dumb bombs' in Syria, which have allegedly killed civilians, (to be) absolutely unacceptable. It's pure speculation not backed up by facts."
Aleppo – next humanitarian crisis
Meanwhile an advance to encircle the Syrian city of Aleppo by government troops and their militia allies backed by heavy Russian air strikes has brought one of the biggest changes of momentum of the five year war, creating a new humanitarian emergency in recent weeks.
War monitoring group The Syrian Observatory for Human Rights claims at least 500 people have been killed in Aleppo, since the start of an offensive in early February, 2016.
Ceasefire talk as 50,000 Syrians flee Aleppo fighting https://t.co/paBaSaZhzlpic.twitter.com/jQy68Ab6a1

—

AJE

News (@AJENews) February 10, 2016
The fighting has already wrecked the first attempt at peace talks for two years and led rebel fighters to speak about losing their northern power base altogether.
The United Nations on Tuesday said that hundreds of thousands of civilians could be cut off from food if Syrian government forces encircle rebel-held parts of Aleppo, warning of a massive new exodus of refugees.
The United Nations is worried the government advance could cut off the last link for civilians in rebel-held parts of Aleppo with the main Turkish border crossing, which has long served as the lifeline for insurgent-controlled territory.