Turkey lashes out over UN demands to open Syria border to refugees
Comments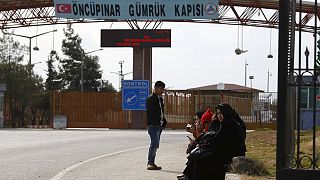 A war of words has intensified over Turkey's decision to keep its border closed to tens of thousands of Syrians fleeing violence in Aleppo.
Aid trucks are crossing to the Syrian side with supplies for victims of what the Turkish Prime Minister has called ethnic cleansing.
The United Nations and European Union have urged Turkey to open its border.
But Turkish premier Ahmet Davutoglu, speaking in The Hague, said it was hypocritical of those who have failed to stop Russian air strikes in Syria to now ask Turkey to open its doors, stressing that the country has taken in over 2.6 million refugees during the five-year war.
Turkish PM lashes out at 'two-faced' UN https://t.co/YPaUr4dFf1pic.twitter.com/32jivpHFTq

— Hürriyet Daily News (@HDNER) 10 Février 2016
Turkey's President Recep Tayyip Erdogan also slammed the UN on Wednesday, saying that Turkish spending on food, accommodation and medical care for refugees living in camps had reached $10 billion, while the United Nations had provided just $455 million.
Turkey's Erdoğan asks UN: Are you mocking us? https://t.co/AzuhRKkwTapic.twitter.com/bozEyoAZcs

— Hürriyet Daily News (@HDNER) 10 Février 2016
Caught in the middle of this humanitarian crisis, one displaced Syrian woman said:
"The children got sickness and diarrhoea from the cold. We have no bathrooms or toilet paper. People tell us: 'Go here, go there.' God help them They are refugees, too. Who is going to be able to give us anything? We have spent eight days in the street."
World powers are meeting in Germany on Thursday in the latest diplomatic push to negotiate an end to the conflict.
Little hope surrounds those talks or the immediate future of the tens of thousands of Syrian refugees still stuck at the Turkish border.