Pope raises concerns for Christians in talks with Iraqi PM Abadi
Comments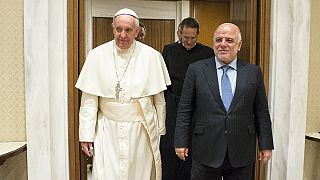 Pope Francis hosted Iraq's Prime Minister Haider al-Abadi on Wednesday and raised concerns about the desperate plight of Christians and other minorities in the war-torn country.
Iraq's ancient Christian community has been decimated since the militant Islamists of ISIL swept through a third of the nation in 2014 in their drive to build a caliphate.
The Iraqi Christian population, thought to number some 1.5 million before the US-led invasion in 2003, is now estimated at less than 300,000.
The importance of keeping Christians as well as other minorities in Iraq and of protecting their rights was stressed by Pope Francis.
While their desperate plight in the war-torn north is well-known, reports have also emerged of discrimination in Baghdad and even militias seizing Christian homes and businesses there.
Away from the capital, many Christians have fled ISIL-controlled areas, like the group's Iraqi stronghold of Mosul, after they were told to convert to Islam, pay a tax or face death.
Last week, the European parliament called on the international community to counter ISIL's systematic mass murder of religious minorities in Iraq and Syria, saying such acts amount to "genocide".