Italian paramilitary police arrest 109 suspected Mafia members
Comments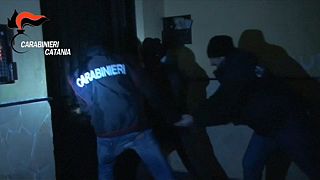 A night time anti-Mafia operation in eastern Sicily has resulted in the arrests of 109 people.
Those detained are suspected members of the Laudani Mafia clan – considered one of the most dangerous gangs on the Italian island.
They are charged with running extortion rackets, drug trafficking, illegal weapons possession and other crimes.
Women were among those arrested. The Carabinieri paramilitary police, which carried out the operation, said the women had taken charge of the organisation following the arrests of several men. They are believed to have been setting up a fund to help families of imprisoned clan members.