Italian coastguard rescues migrants as volunteers prepare for more
Comments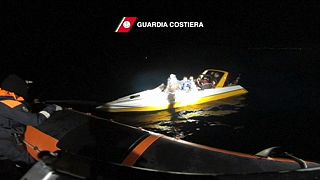 The Italian coastguard has rescued 91 migrants in three different operations in the Aegean Sea.
Italian coast guard rescues migrants off Greek island of Samos – https://t.co/DJCrJ9E9Rqpic.twitter.com/Kb3dl4wrwR

— Eagle News PH (@EagleNewsPH) February 10, 2016
One rescue mission saw 68 people claiming to be Syrian picked up off the coast of Samos island in Greece.
Italian authorities say two suspected people smugglers of Turkish origin have been arrested.
As the Greek authorities continue to struggle with the flow of migrants hundreds of volunteers are at work on the Greek islands to offer help to the asylum seekers.
Sakib from Bahrain is on Lesbos:
"We've seen there's a language barrier when the refugees land here and basically there is that issue and we just try guide them to where they need to go, help them with getting food and clothes."
My friend and I raised €920 in 5 days prior to going to Lesbos & gave it directly to the Starfish Foundation Molyvos pic.twitter.com/3EomGNpdpA

— Helen Roadhouse (@Hellvale) September 28, 2015
Ema is from the Starfish Foundation: "We had to expand with great rapidity to address this situation and at first the management was mainly carried out by locals, and then with the help of tourists. When the tourist season is over, we need to start looking for support abroad and that is why we have become a foundation."
The needs of arriving refugees vary, hunger and thirst are common, as is trauma. By the time they reach Greece, most refugees have lost something, and some have lost everything.
From Lesbos to #Flint — an Islamic relief group helps the poor get safe water. https://t.co/XzfDXXKiy4jcarstensen</a> <a href="https://t.co/RA05XQG5d2">pic.twitter.com/RA05XQG5d2</a></p>&mdash; David Beard (dabeard) February 5, 2016